Chilli con carne nachos are a delicious and satisfying snack or meal that can be enjoyed by vegans, vegetarians and meat-eaters alike. To make a meat-free version of this classic dish, you can use Richmonds No-Beef Mince in place of the traditional ground meat. Topped with melted vegan cheese, chopped tomatoes, and guacamole, these nachos are sure to be a hit with all your friends and family.

Heat the olive oil in a medium size saucepan, add the onion and red pepper and cook for 10 minutes until softened.

Add the Meat-Free mince to the pan, stir to break up and cook for 5 minutes, stir in the cumin, coriander and chilli powder, and cook for a further 2 minutes. Stir in the tin of tomatoes and kidney beans, bring to a simmer, and cook for 15 minutes until thickened and saucy, season to taste with salt and pepper.
Pre-heat the grill to high.
Spread the tortilla chips in the base of an ovenproof dish, sprinkle over the cheese and cook under the grill until bubbling and golden.
Top the cheesy tortilla chips with the chilli con carne, dot with some of the guacamole, salsa and sour cream and serve with the remaining sauces for dipping.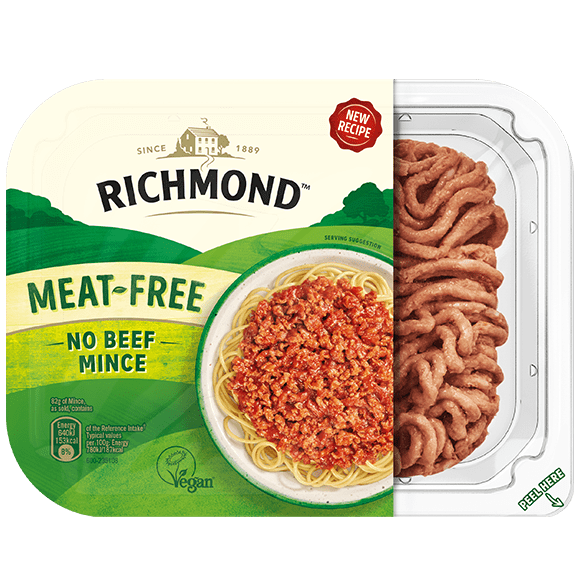 1 tbsp olive oil
1 onion, chopped
1 red pepper, deseeded and chopped
1 pack Richmond Meat
Free Mince
1 tsp ground cumin
1 tsp ground coriander1
tsp chilli powder
400g tin chopped tomatoes
400g tin kidney beans,drained and rinsed thoroughly
180g bag tortilla chips
100g grated vegan cheese
1 tub guacamole
1 tub tomato salsa
150ml vegan crème fraiche or sour cream