Cottage pie, also known as shepherd's pie, is a British dish traditionally made with a base of minced meat and vegetables, topped with a layer of mashed potatoes. To make a meat-free version  cottage pie, you can use Richmonds No BeeF Meat-Free Mince and the following delicious recipe!

Preheat the oven to 180°C

Bring a pan of salted water to the boil and cook the potatoes for 15-20 minutes until soft.
Heat the olive oil in a pan, add the onion and cook for 10 minutes until soft. Stir in the meat-free mince and cook for 5 minutes, stirring frequently. Crumble the stock cube into a measuring jug and add 200ml of boiling water, stir to dissolve.
Add the tin tomatoes, vegetable stock and carrot and swede to the mince, bring to a simmer and cook for 5 minutes, season to taste with salt and pepper. Spoon into a large rectangular ovenproof dish.
Drain the potatoes then mash with a potato masher, add the vegetable spread and beat until creamy with a wooden spoon. Spread on top of the mince in an even layer and fluff up lightly with a spoon. Bake in the oven for around 40 minutes until bubbling and golden.
Remove from the oven and leave to rest for 5 minutes before serving with peas.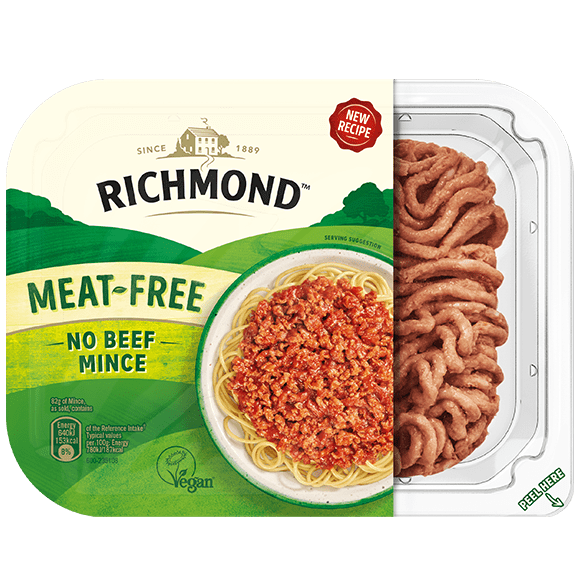 1 tbsp olive oil
1 onion, chopped
2 packs of Richmond
Meat-Free Mince
400g tin tomatoes
250g of diced carrot and swede
1 vegetable or meat free beef stock cube
1 kg Maris Piper potatoes, peeled and chopped
25g vegan spread
Salt and freshly ground black pepper
Peas to serve