Meat Free Sausage and Mash
Sausage and mash is a hearty and satisfying meal that is perfect for a cold winter's evening, a classic British dish that consists of Richmond's Meat-Free Tasty Sausage and mashed potatoes. Using the delicious recipe below you can make a fantastic meal four. 

Bring a pan of salted water to the boil, add the potatoes, and cook for 15-20 minutes until completely soft.

Heat the oil in a large frying pan over a medium heat. Add the sausages and cook for around 8-10 minutes, turning regularly, until golden brown.
Make up the gravy with the granules, according to packet instructions, keep warm.
Bring another pan of salted water to the boil and cook the green beans for 5 minutes.
Drain the potatoes well then return to the pan and mash with a potato masher until smooth. Beat in the spread and oat milk, season with salt and pepper and stir in the mustard.
Serve the sausages with the mustard mash, green beans and gravy.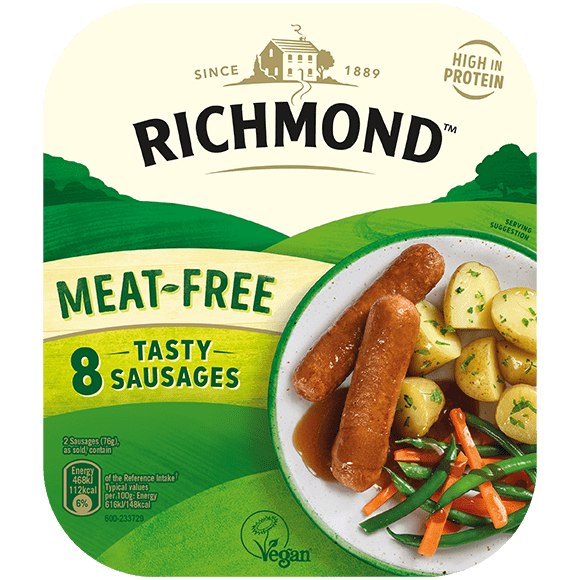 1 tbsp olive oil
1 pack 8 Richmond Meat Free Sausages
1 kg Maris Piper potatoes, peeled and cut into large chunks
25g vegan spread
25ml oat milk
2 tsp whole grain mustard, plus extra to serve
4 tsp vegan gravy granules
Salt and freshly ground pepper
200g green beans