Our delicious meat-free burger is made with Richmond Meat-Free No Beef Burgers and served up on a soft burger bun. The patty is fried to perfection and topped with fresh vegetables such as lettuce, tomato, red onion and pickles. To add a creamy element, the burger would be topped with a generous dollop of vegan cheese and a dollop of tomato ketchup. Serve the burger hot and enjoy!

Heat the olive oil in a small frying pan over a medium heat. Fry the burger for 5-6 minutes each side until golden brown and cooked through.
Cook your oven chips according to the instructions on the packet.

Lightly toast the buns, then spread the mayonnaise on the bottom half and the ketchup on the top half.
Turn the burgers over one last time in the pan then top with the cheese slice, remove the pan from the heat but leave the burgers in the pan for the cheese to melt slightly.
Assemble the burgers by placing the lettuce leaves on top of the mayonnaise, then topping with the tomato slice, cheese topped burger, slices of gherkin and onion and finally finishing with the top of the bun. Serve alongside oven chips and extra ketchup or mayonnaise for dipping.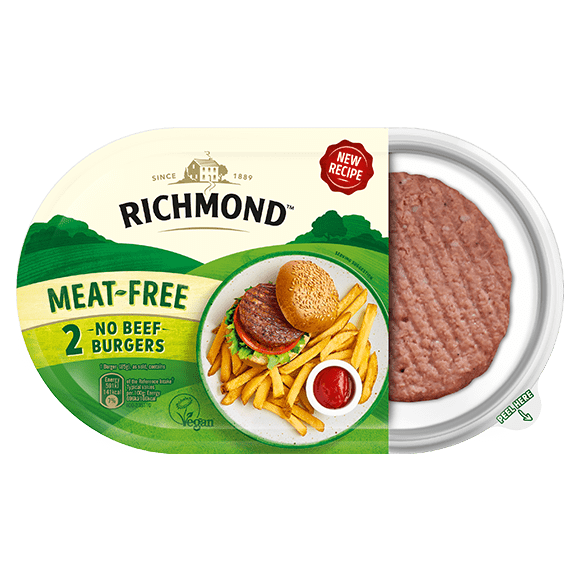 1 tbsp olive oil
2 Richmond Meat-Free Burgers
2 burger bun
2 tbsp vegan mayonnaise
2 tbsp tomato ketchup
2 slices vegan cheese
4 little gem lettuce leaves
2 slices beef tomato
2 gherkins, thickly sliced
4 slices red onion
Oven chips to serve