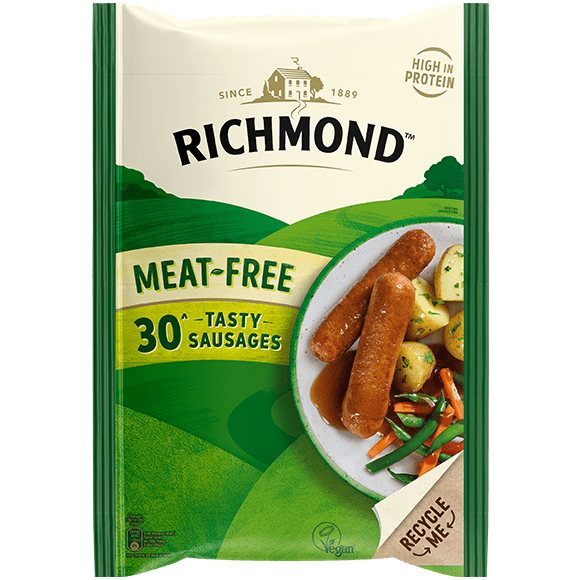 30 Frozen Meat Free Sausages

Loved by the whole family for over 130 years, we bring everyone together with delicious heart-warming food. Our tasty and succulent meat-free range is packed full of flavour that everyone will enjoy.


In the oven: Preheat oven to 190oC/Fan 170oC/Gas Mark 5. Place sausages on a baking tray in the middle of the oven and cook. Turn occasionally.
On the hob: Heat Fry in a pan on the hob in a tablespoon of oil on a medium heat. Turn regularly until golden brown.

Typical Values
–
Energy kcal
Energy kJ
Fat
   of which saturates
Carbohydrate
   of which sugars
Fibre
Protein
Salt
2 Sausages (76g), as sold, contain
–
112kcal
468kJ
4.6g
3.3g
8.7g
0.4g
4.8g
6.6g
1.2g


Water, Rehydrated Textured SOYA and WHEAT Protein (15%)(Water, SOYA Protein, WHEAT Protein, Salt, SOYA Bean Oil, Natural Flavouring), Rusk (WHEAT), Stabilisers: Sodium Alginate, Guar Gum, Methyl Cellulose; Coconut Oil, SOYA Protein, WHEAT Starch, Flavourings, Salt, Potato Fibre, Yeast Extract, Colouring Foods: Beetroot, Safflower; Herbs, Spices, Black Pepper Extract, Capsicum Extract, Coriander Extract, Ginger Extract, Mace Extract, Nutmeg Extract.


Keep frozen -18oC or below. Food freezer **** until Best Before End. Star marked refrigerator frozen compartment *** until Best Before ** 1 month * 1 week. No need to thaw. If thawed, cook within 12 hours of removal from the freezer. Do not refreeze once defrosted.