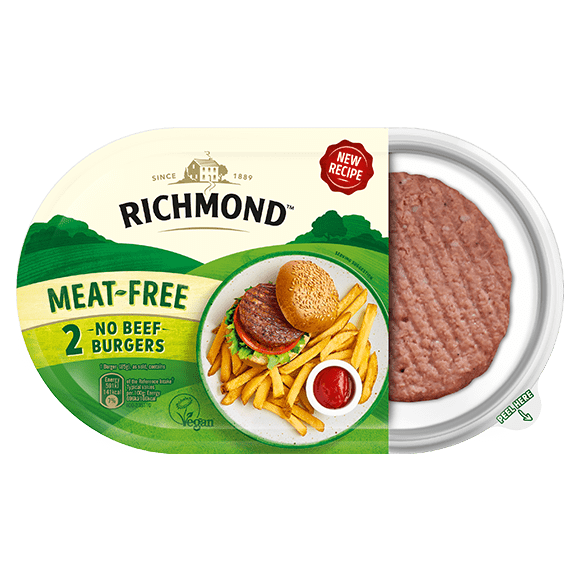 Loved by the whole family for over 130 years, we bring everyone together with delicious heart-warming food. Our tasty and succulent meat-free range is packed full of flavour that everyone will enjoy.


In the oven: 
Preheat oven to 190˚C / Gas Mark 5. Place burgers on a baking tray in the middle of the oven and cook. Turn occasionally.
Shallow Fry:
Fry in a pan on the hob in a tablespoon of oil on a medium heat. Turn regularly until golden brown.y.

Typical Values
–
Energy kcal
Energy kJ
Fat
   of which saturates
Carbohydrate
   of which sugars
Fibre
Protein
Salt
100g of Burger,
as sold, contains
–
166kcal
696kJ
6.0g
0.7g
8.4g
2.4g
3.1g
18g
1.1g
1 Burger (85g),
as sold, contain
–
141kcal
591kJ
5.1g
0.6g
7.1g
2.1g
2.6g
15g
0.95g
ingredients - new improved recipe​


Rehydrated Textured Pea Protein* (24%)(Pea Protein, Water), Rehydrated Textured WHEAT Protein (24% (WHEAT Protein, WHEAT Flour, Water), Water, WHEAT Protein, Vegetable Oils (Rapeseed and/or Sunflower), Diced Onion, Pea Protein, Stabiliser: Methyl Cellulose; Starch, Potato Fibre, Flavourings, Salt, Colouring Food Concentrates: Red Beet, Malted BARLEY, Beetroot, Carrot; BARLEY Malt Vinegar, Smoked Sunflower Oil, Natural Flavourings, Smoked Salt, Coconut Oil, Garlic Powder, Spices, Onion Powder, Herbs, BARLEY Yeast Extract, Shiitake Mushroom Powder, SOYA Protein.
*People with severe allergies to legumes, such as peanuts, could have a reaction to pea protein and should be cautious when introducing pea protein into their diet.


Keep refrigerated below 5ºC. Suitable for freezing. Freaze no later than 2 days before Use By date and use within 1 month. Defrost thoroughly before use. Do not refreeze once defrosted.