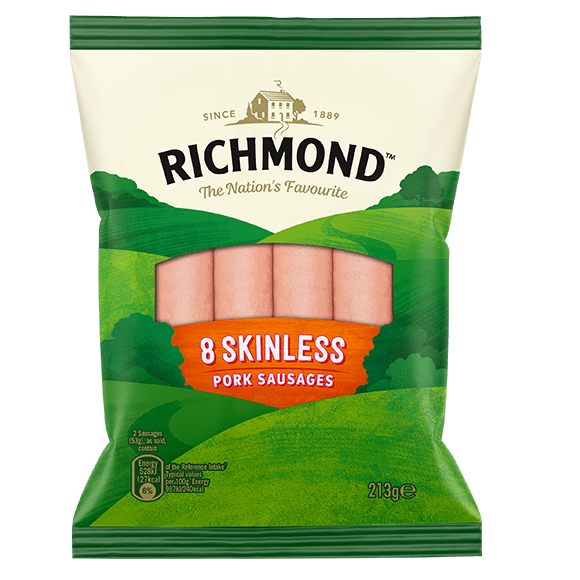 Loved by the whole family for over 130 years, we bring everyone together with delicious heart-warming food. Whether its pork, chicken or meat-free, we've got something tasty for everyone, no matter who is at the table.


In the oven:
Preheat oven to 190°C/Gas Mark 5. Place sausages on a baking tray in the middle of the oven and cook. Turn occasionally.
In the grill: Preheat grill to medium. Place on a rack. Turn occasionally.

Typical Values
–
Energy kcal
Energy kJ
Fat
   of which saturates
Carbohydrate
   of which sugars
Fibre
Protein
Salt
per 100g
–
240kcal
997kJ
17g
5.9g
11g
1g
1.2g
9.2g
1.9g


Pork (43%), Water, Rusk (WHEAT), Starch, Pork Fat, SOYA Protein, Salt, Stabilisers: Diphosphates, Guar Gum*; Flour (WHEAT Flour, Calcium, Iron, Niacin, Thiamine), Flavourings, Preservative: Sodium MetabiSULPHITE**; Antioxidants: Ascorbic Acid, Alpha Tocopherol; Nutmeg Extract, Black Pepper Extract, Mace Extract, Coriander Extract, Colour: Carmine.


This product may have been previously frozen. Suitable for freezing. Further freezing will not affect product quality. Freeze no later than 2 days before Use By date and use within 1 month. Defrost thoroughly before use. Do not refreeze once defrosted.